Instantly implement sensor remote data monitoring
Analog acquisition 4~20MA/0-5V
GPRS wireless remote transmission
Low-power sleep active wake-up
Low bandwidth and low flow for a wider range of applications
TCP protocol stack supports MQTT protocol
High-precision data acquisition up to 0.1
Www.tlink.io Free Cloud Platform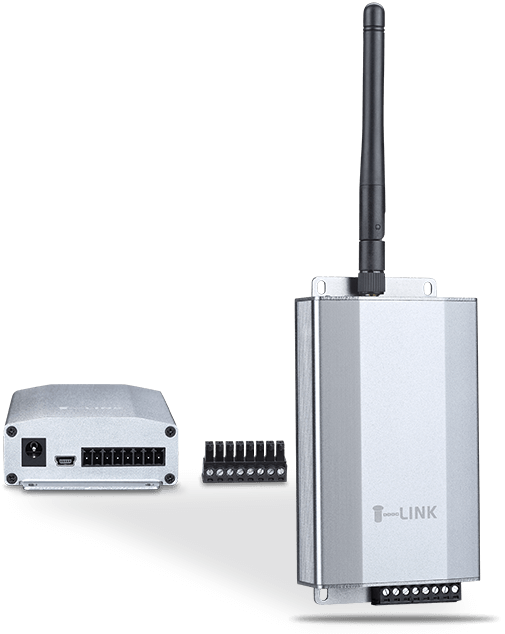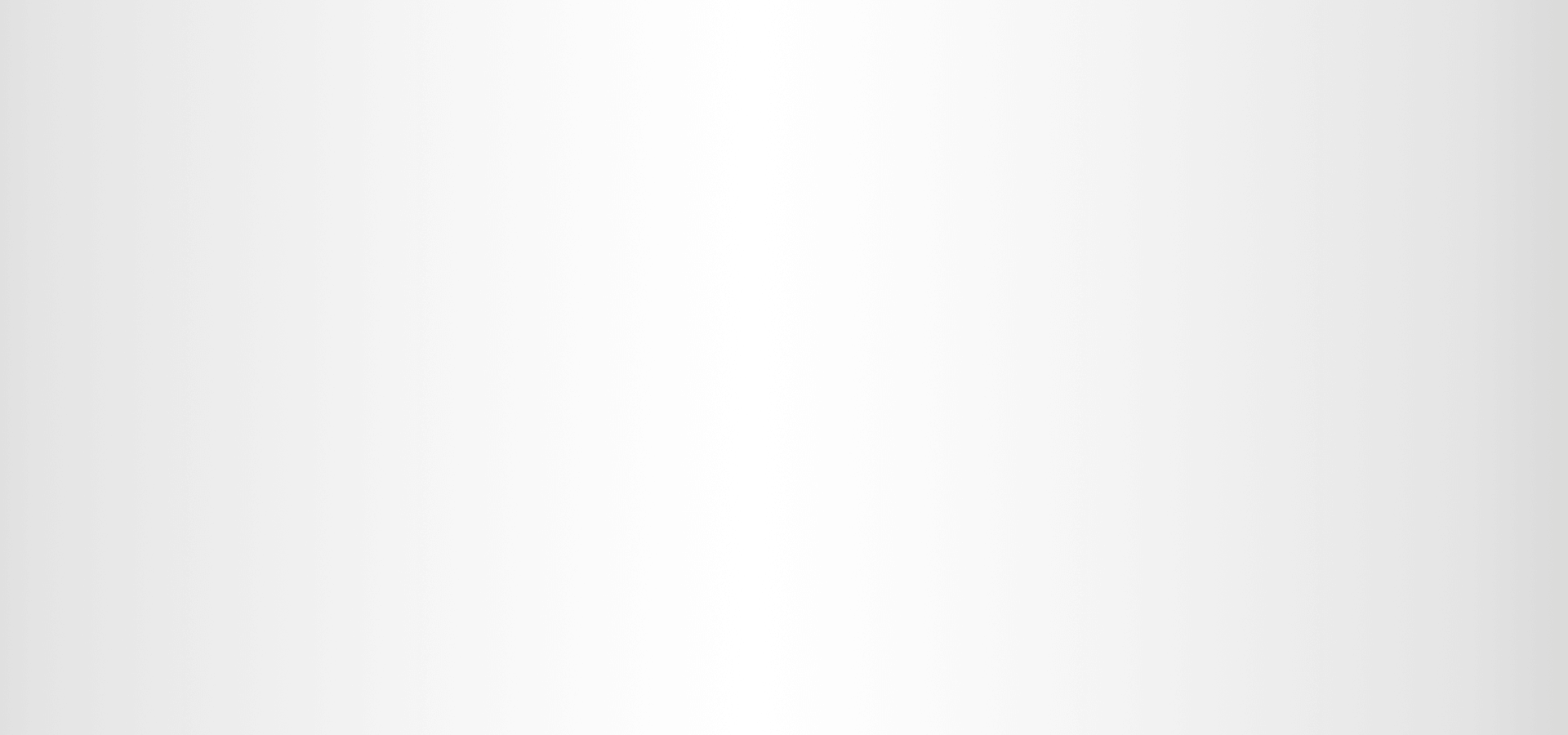 Easily scan code links

Transmitter
4-20mA/0-5V input can be
Find the body code
Or find www.toprie.com home page
Wechat scan
Connect www.tlink.io free cloud platform
Data logging and viewing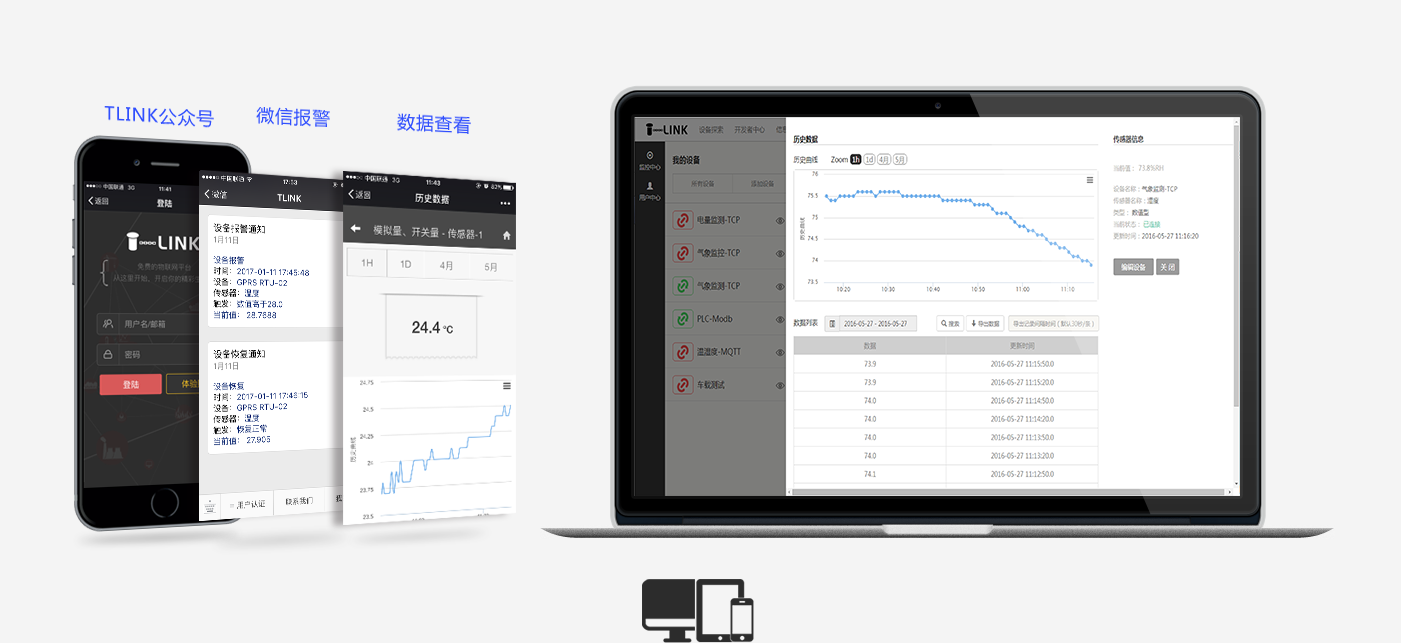 Based on Tlink free Internet of Things platform for remote management, multiple ways to synchronize online, data logging & analysis/history query/wechat & SMS alarm.
At the same time support PC, mobile APP / WeChat and other ways of data viewing management
Supports multiple connection protocols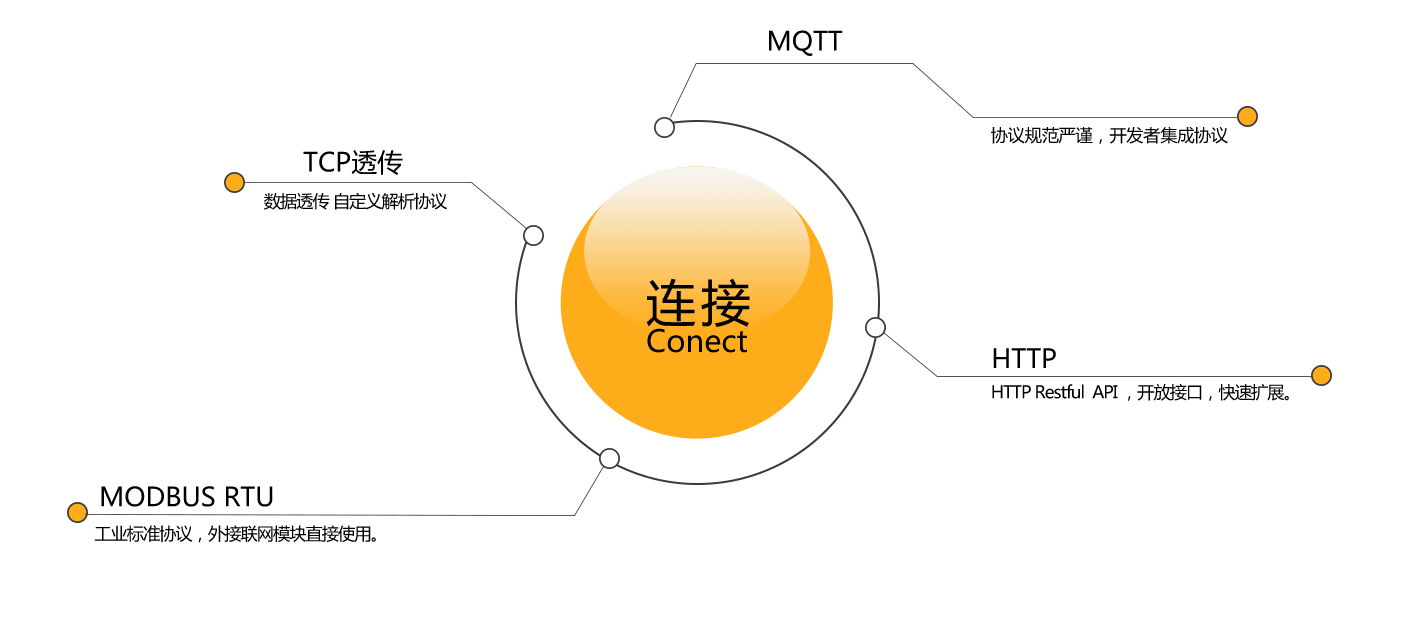 Built-in TCP/IP protocol stack, supporting TCP, MQTT protocol, and transparent transmission between device and server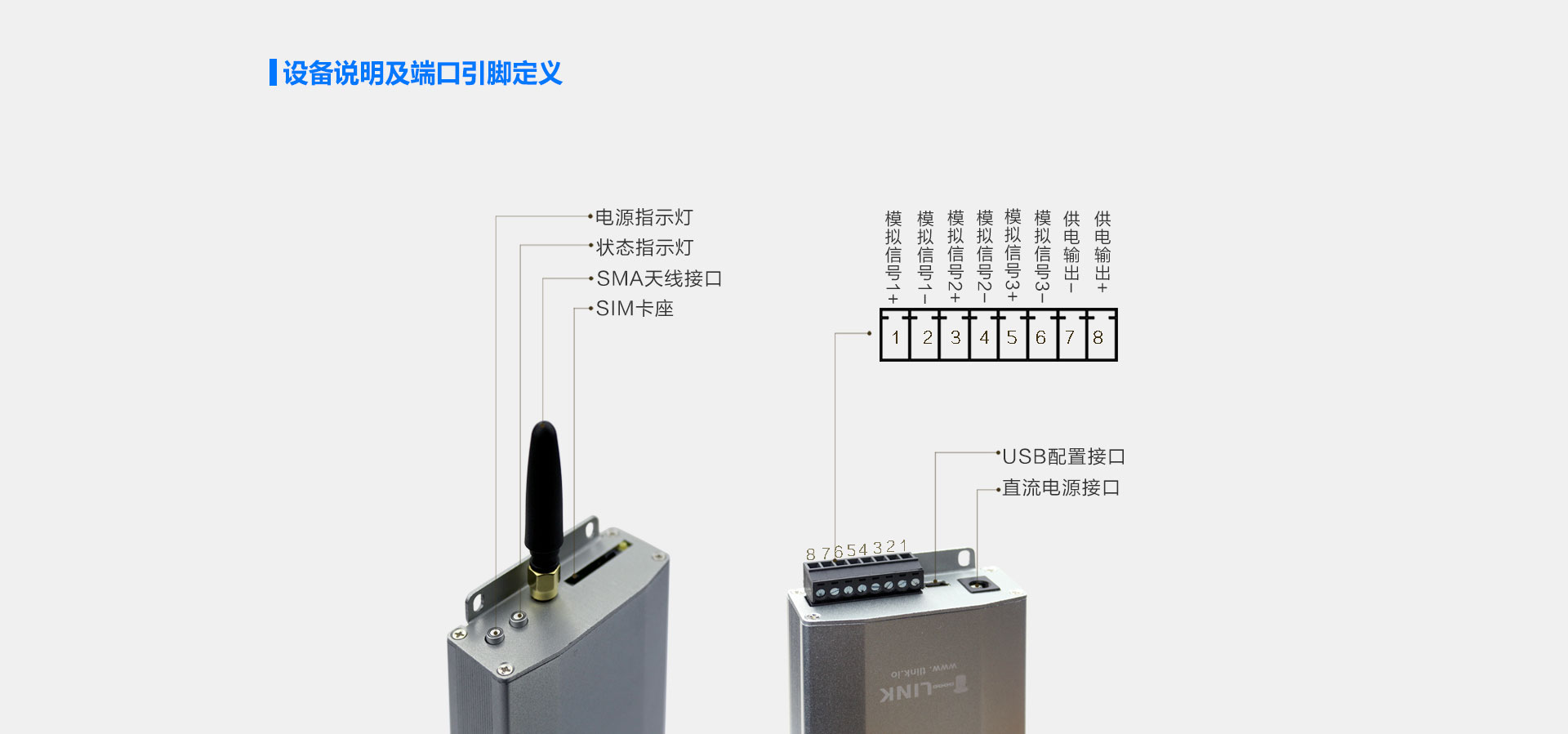 Connection with different wire sensors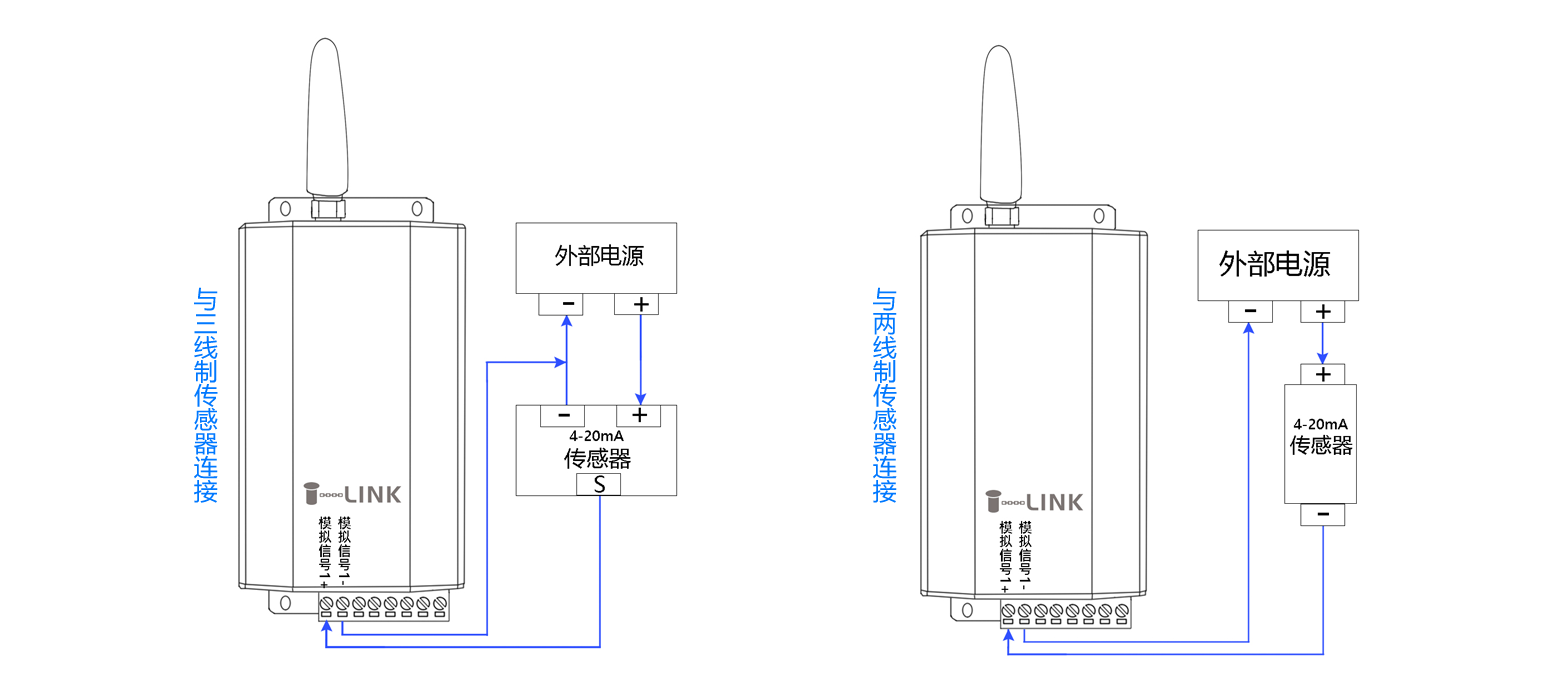 Application area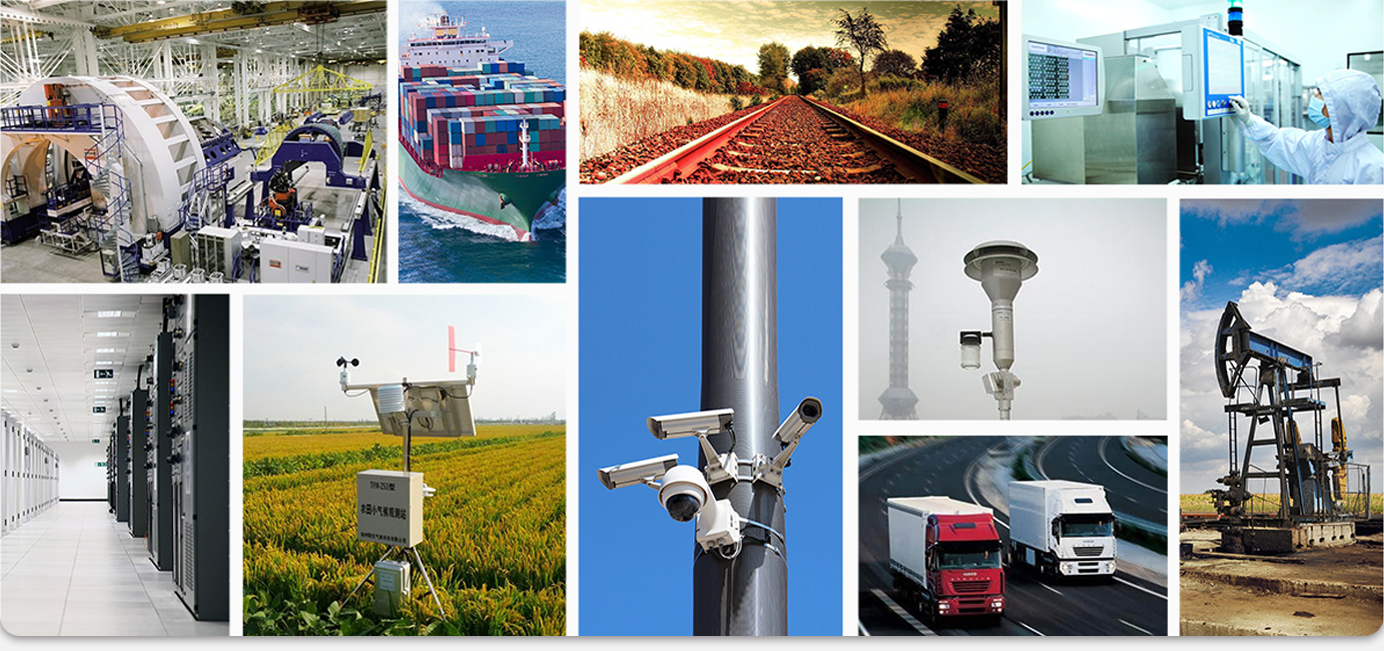 Connection with different wire sensors
Provide device status indicator and network status indicator and status indicator as device reboot button
Wide voltage supply 8V~28V
Provides 3 analog inputs (24bit resolution)
Provide a feed output, the output voltage is optional (5v and module supply voltage, the maximum load capacity is 0.5A, it is recommended not to exceed 0.25A)
Automatically report the collected data and set the reporting interval
Support China Mobile, China Unicom 2G network
Report data in both TCP and MQTT modes
Embedded TCP/IP protocol stack and GPRS technology combine the Internet and GPRS network organically to support public network and APN network access.
Supports dynamic data center domain names and IP addresses.
Supports ALWAYS ONLINE mode and supports disconnected connections.

The main parameters
Channel: 3 analog inputs
Input Type: 0-5V, 4-20mA
Input impedance: voltage measurement greater than 5MΩ, current measurement with 150Ω
Resolution: 24bit
Measurement error: 0.1
Feed output current: 500mA
Working frequency band: quad-band 850/900/1800/1900MHZ
GPRS multi-slot class 10/8
GPRS mobile station class B
Meet GSM 2/2+ standards
–Class 4(2 W @900 MHz)
–Class 1(1 W @1800 MHz)
Power supply range: 8V~28V 1A
Receiver sensitivity: <-110dBm
Low power consumption: <2.5mA (sleep mode), <15 mA (standby), <50 mA (data communication)
Working temperature: -20~70°C
Hot and humid environment: can work at 60 °C, relative humidity at 90% to 95%
Vibration environment: Reliable operation in the frequency range of 10Hz to 55Hz, the amplitude value is 0.35mm, three-axis direction
High and low pressure: working pressure range 84 ~ 1kPa
Data transmission: GPRS class 10: up to 85.6 kbps (downstream rate)
Size: 103*64*26mm